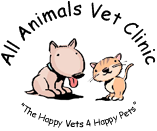 Nurse Clinic's
The clinics are run by the practices Qualified Nurses and are free of charge to help us help you keep your pets in tip top condition.
New Pet Clinic
Whether you're considering getting a new pet or already have a newby, All Animals Vet Clinics Nurses can inform you about what you need to be looking out for with regards to routine health care, preventative treatment, neutering and insurance. We'll also try to answer any questions that you may have about your new fluffy friend.
Bunny Clinic
Rabbits are becoming an increasingly popular pet, with some living comfortably indoors. They have specific husbandry and nutritional requirements. We can give advice on accommodation, exercise, neutering, health care, vaccinations and how to be aware of Flystrike, a distressing disease which can be avoided with proper care and attention to your rabbit.
Adolescent and Post Neutering Checks
You will receive an invite to a check up 6 months after your pets initial vaccine course or 6 months after being neutered. This gives us a chance to see how they are getting on and give advice about maintaining a healthy diet as pets will be requiring different nutritional elements due to approaching new stages in their life. It also gives us the opportunity to show you how to maintain a healthy pet by doing simple health checks at home allowing you to know early warning signs of ill health.
Over8Plus
For those pets that are reaching their golden years. Just like people pets can suffer from age related problems- such as arthritis and stiffness as well as senile behaviour. Don't just put it down to them getting old, fact is animals are living much longer now just like their human counterparts. There are treatments available as well as diets tailored for the older pet and activities that we can help you do to help keep your pet as young and a supple as possible
Weigh In Club
As an increasing number of pets become overweight we are seeing further health problems develop such as heart disease, arthritis and diabetes. These clinics provide the opportunity to develop a tailor made weight loss plan for your pet. We will also give advice on exercise and provide follow up weigh in clinics to help give support with weight loss. Helping to keep them at a good weight helps to prevent them from getting further related health problems, meaning that you have a healthier, happier pet!
Nurse Services
In addition to the Nurse Clinics, we also offer services such as:
Nail clipping
Anal gland expression
Micro chipping
Post op checks
Removal of stitches/ staples post op
Taking routine blood samples
Administering medication (wormers, flea treatment, eye creams etc)
Run puppy training classes
Some of the services offered might incur a fee