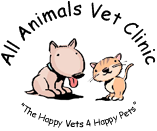 Pet Passport
All Animals is able to issue a Pet Passport upon request to our clients
We would, however, strongly advise you to make sure you are aware of what your pet needs to be able to go on holiday with you, as rules and regulations change all the time- please check on the DEFRA website ( http://www.defra.gov.uk/wildlife-pets/pets/travel/) to find out exactly what you require your pet to have and for guidance on time periods- there's nothing worse than booking a holiday for the family and finding out Fluffy can't go!
Passport Requires you to have:
Your pet vaccinated with routine vaccines. Your pet up to date with flea and worm control- depending on your destination, some countries will require you to have an appointment with a vet to have your pet treated again before entry back into the UK (i.e. France) Your pet microchiped. Your pet vaccinated against Rabies AFTER being microchiped. Please note that Rabies vaccinations can be given but you will not be allowed to re-enter the UK until 21 days AFTER THE DATE OF THE VACCINATION FROM EU AND LISTED NON EU COUNTRIES .
Should you be travelling to unlisted non EU country your pet must have a blood test to ensure that the rabies vaccination has given your pet a satisfactory level of protection against rabies.
This blood sample must be taken at least 30 days AFTER VACCINATION if the results are fine then you can return to the UK, 3 calendar months from the date the blood sample was taken.
Please be aware as with any vaccination Rabies vaccine can produce varying amounts of antibodies- you will not know the level of protection unless you have a blood test. If your pet should fail they will require another rabies vaccination.
For travel to Europe and N. Ireland pets now require an Animal health certificate(AHC). We can provide AHCs at the clinic. Your pet will need to be microchipped and have had a rabies injection at least 21 days prior to certificate being issued. The AHC is valid for 10 days and then for 4 months onward travel in Europe. Depending on where your pet is going to, you will either need a tapeworm treatment before leaving or entering UK.
All of this will need to be considered before booking holidays to allow adequate time!
After all of this you can then be issued with a Pet Passport.