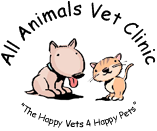 Pigeon Services
In addition to the small animal and exotic pet services offered within the practice, All Animals Vet Clinic offers a number of in house and postal pigeon diagnostic services, in addition to a number of Pigeon Heath Products.
Full Laboratory Test Kit
The full test kit can be carried out using samples provided by you via the post, or using samples collected when in a consultation with Lizzie in the surgery.

When a test kit is requested by post, we will send out everything required for you to collect and return the samples required for us to test your pigeons for the following conditions:
• Worms
• Cocci
• Canker
• Chlamydia (also known as Ornithosis)
• Yeast
• Fungus
• Adenovirus (also known as Young Bird Sickness)
• Salmonella (also known as Paratyphoid)

We will have also grow a general bacteriology plate in order for us to carry out an antibiotic sensitivity test. This will determine which antibiotic would be most useful should you be required to use one. Tests are available at a cost of £ 37.26.
Prescription Only Medicine
Due to current prescribing laws, enforced by the Royal College of Veterinary Surgeons, we cannot send prescription medicine through the post unless we have seen a pigeon from your loft within the last 6 months. In cases where prescription medicine is required we would ask you to either send a pigeon to the surgery for Lizzie to examine, or contact your local vet in order for them to prescribe you the medicine.
Lizzie Rigby Pigeon Products:
We are able to supply the following Lizzie Rigby exclusive products from the practice:
Lizzie Rigby Immune Boost (500ml) - £ 14.00
General health product with a base of vegetable extracts. Immune Boost develops the structure and preserves the balance of the pigeon's immune system. It also acts as a water purifier, killing harmful bacteria before they spread through the flock. It is indispensable to bring the pigeons into shape at the beginning of the racing season, before breeding and when weaned. Immune boost is highly digestible since it contains no lipids.

Directions for use: 10ml per 2L of water or 1kg food for duration as required.

At the beginning of the flight season – 10 days.

When the pigeon loses shape or has been ill – 7 days.

On Weaning – 14 days.

Breeders – 7 days before coupling.

General use – 2 days per week with Complete Oil.
Lizzie Rigby Probiotic Plus (100g) - £ 12.00
Probiotic Plus is a product with a base of concentrated and fermented garlic. It is an active intestinal conditioner, especially useful after the flight. Probiotic Plus stimulates the intestinal flora which takes care of a good digestion. Also, it frees the respiratory tracts and stimulates renal function. Recommended for regular use, a five day treatment is also beneficial when diet changes occur.

Directions for use: 5g per 2L of water or 1kg of food, duration as required.

Prices correct at the time of publishing.
Lizzie Rigby Complete Oil (500ml) - £ 13.00
Complete Oil may be given during racing, difficult moulting periods and to young growing pigeons. Complete Oil can be combined with other products as directed. It preserves the intestinal balance of the pigeon and stocks a fuel reserve in the muscular tissue. It contains:
• Essential natural oils - with stimulating and depurant properties
• Garlic oil - for its purifying and antiseptic effect
• Cod liver oil - Vitamin A source necessary for healthy eyes and a good skin, vitamin D source, promoting calcium absorption for strong bones
• Lecithin - a nutrient that is important for the formation of the nerve fibre. Contains phosphorus which is easily absorbed by the body
• Wheat germ oil - This balanced combination of sunflower and wheat germ oil provides for the fatty acids necessary for a balanced muscle development
Directions for use: 15ml of complete oil per 30 pigeons daily. For best results start giving 4 weeks before racing season.

Prices correct at the time of publishing.
Lizzie Rigby ENT (Ear Nose Throat) drops (30ml) - £ 7.00
Product to nurse the eyes and clear the upper respiratory tracts.

Directions for use: 1 drop in each nostril and eye before and after the race. For a more profound effect 1 drop 3 times daily for 5 days.

Lizzie Rigby Tonic (90ml) - £ 8.00

A vitamin, electrolyte and glucose mix ideal for after racing or when pigeon is unwell.

Directions for use: 3mls per 2L of water.

Prices correct at the time of publishing.
Lizzie Rigby Breeding Milk (500ml) - £ 10.00
Produced to provide the essential balance of calcium, phosphorus and vitamins to ensure eggs have a perfect structure and consistency, and to also provide a healthy balanced growth of young birds skeletons. Start treatment 3 weeks before pairing and continue until the youngsters are weaned.

Directions for use: 1ml a day per pigeon

Prices correct at the time of publishing.
Other Products and Services

Pigeon Post Mortem - £ 23.50: The vet will carry out a thorough post mortem on the dead specimen provided and the results reported to you. A full test kit can be carried out on the samples retrieved, cost as above. Any further tests on samples retrieved in the post mortem will incur further costs.

Well Pigeon Service **NEW SERVICE** You will receive a test kit quarterly, charged at a discount of 10%. As a member of the Well Pigeon Service you will receive 10% discount on Lizzie Rigby Pigeon Products.

Payment will be required on receipt of kit back to us on a quarterly basis. To join this service please complete the attached form and return to us.

Wormers: In addition we can also supply: Panacur Pigeon Wormer Caps (x 50) - £ 14.88 / Avicas Pigeon Womer (x 40) - £ 10.95

Wormers: In addition we can also supply: Panacur Pigeon Wormer Caps (x 50) - £ 14.88 / Avicas Pigeon Womer (x 40) - £ 10.95

**Post and packaging: is charged at £ 2.00 per item. Please contact the surgery or return the attached form to order any products.